Top 8 Tips for Picking a Cruise

by June Santini
Would you love to go on a cruise vacation? Of course you would! They're wonderful. But there's also a wide variety of choices among different cruise lines, styles, and destinations. So how should you choose your perfect, just-for-your cruise? Here are important factors to consider as you decide on your cruise. Once you've considered these, it's all smooth sailing!
1. Decide where you want to go.
It wasn't long ago that the Caribbean was one of a few places where you could cruise. Not so anymore. If there is a coastline near it, chances are a cruise ship goes there. New ports are being built all the time to accommodate the growing cruise market. You can cruise the coasts of the United State and never leave the country, or go to wild and exotic ports like Antarctica and Asia, the South Pacific, Europe, and everywhere in between.
2. Decide your cruising style. 
Are you planning on taking the kids? Check out the kids programs on lines like Disney, Royal Caribbean, or Norwegian. Want a quieter, more subdued cruise with fewer kids on board? Celebrity or Cunard might be right for you. Cruise ships have something to offer every person, from lavish Broadway-style production shows to cooking classes or even themed speciality cruises, including music, hobbies, sports, wellness, tv shows, and dancing. Cruise lines like Carnival are known for their upbeat, party atmosphere while Princess is known for its relaxing atmosphere.
3. Decide what time of year you'd like to cruise.
School break times and summer obviously have more kids on board, but don't forget to think about college spring break times when booking. You may or may not want to book at those times, depending on if you're taking the kids or not. If you want a Think about the season: what is the weather like in your destination at the time of year you'd like to cruise? Is there an off-season? Hurricane season?
4. Decide your budget.
Cruising, with its all-inclusive pricing, can be incredibly affordable. But, be aware that the lower the cruise fare, fewer things will be included in the all-inclusive price. Beverages other than coffee, tea, water, and lemonade are generally not included in the cruise fare. Internet, specialty dining, gratuities, spa treatments, and photographs are common extra and/or optional charges onboard. Gratuities will be automatically added to your bill. More and more lines are beginning to offer some of these options as booking incentives, while higher priced cruises will include more of them in the fare. Shorter cruises will usually have lower fares, while some upper- end cruises can have hefty fares and far longer cruises.
5. Decide from which port you'd like to leave.
Are you close enough to any to drive? Will you need to fly? Do you want to spend any time in the port city either before or after your cruise? Many lines offer pre and post cruise tours and packages which include airport transfers and hotels. Give your departure port a good deal of thought.
6. Decide how to get to the pier at least two hours before your departure time with your preferred mode of transport. 
The latest arrival time at port is usually one to two hours before departure. Make sure you can get a flight which arrives in at least two to three hours before scheduled departure. I prefer to fly in the day before, especially in winter. You never know what kind of travel delays you may incur. Think about traffic and/or transfers when deciding how and when to arrive at the port.
7. Decide if you want to be on a large ship or a smaller one. 
Mega-ships these days can carry upwards of 6000 people, while smaller ones may have only a couple thousand. Keep in mind that the bigger the ship, the less you will feel any motion. Smaller ships have a more intimate feel and the staff will get to know you more easily. Larger ships have more venues, but that doesn't mean there is less to do on smaller ships.
8. Decide how important the food is to you.
Cruising is all-inclusive of food, All ships offer some kind of up-charge specialty restaurants (except the All Inclusive Regent of the Seven Seas) and you can choose to eat at these or not. The experience may or may not be worth it to you. Certain cruise lines cater to a real foodie experience with restaurants branded by celebrity chefs (Geoffrey Zakarian on Norwegian, Nobu Matsuhisa on Celebrity, Jamie Oliver on Royal Caribbean, for example). Some ships offer more free options than others, while some have a great deal of upcharge options for things like pastries, specialty coffee, sushi, gourmet pizza, and other small plates.
Enjoy your cruise!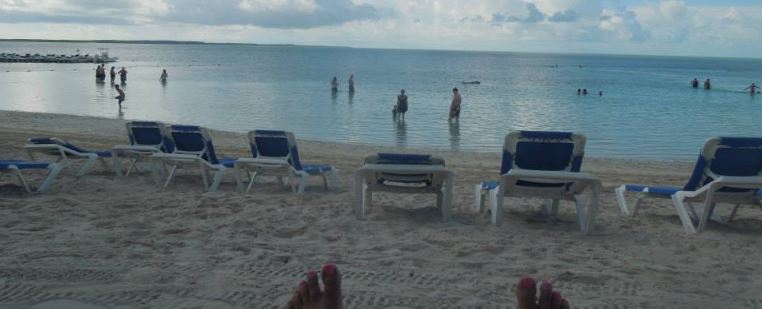 ---
© 2017, KidsOutAndAbout.com
When she isn't cruising, June Santini is Vice President of Operations at KidsOutandAbout.com. She's always looking forward to her next cruise. Let her know if you'd like to go.